Salem, SC – Under the leadership of Christo Lamprecht record setting 62 and Connor Howe's 65, Georgia Tech shot a program-record 22-under-par round of 266 on Tuesday and jumped to second place after 36 holes at the NCAA Salem (SC) Regional.
The No. the second year in a row. Tech's score of 266 was a program record for gross score and relation to par in a single round of an NCAA regional or final, eclipsing the 16-under-par 268 the Jackets shot at the 2014 NCAA Raleigh Regional.
Tech also gave itself a cushion above the cutline, 14 shots ahead of sixth place going into the final round Wednesday. The top five teams in each regional qualifier advance to the NCAA Championship.
The Jackets, at 32-under-par 544, tee the first hole at 8 a.m. Wednesday, tied with the Razorbacks (539, -39) and North Carolina (551, -25), which is tied for third place with eighth-seeded New Mexico. Northern Illinois (553, -23) holds fifth place, with No. 5 seed Georgia Southern in sixth (558, -18).
Tech has advanced to the NCAA Championship finals in seven of the past 10 years, including each of the last three, finishing fourth in 2019 (Pullman, Wash.), third in 2021 (Tallahassee, Fla.) and first last year (Columbus, Ohio). Four of Tech's five 2022 starters are back for this season.
The Yellow Jackets play in an NCAA regional for the 25Th right year and before the 32n.d time in the 34 years the NCAA has used a regional qualifying format for its championship (the NCAA Championship and regionals were not conducted in 2020 due to COVID-19).
Tuesday highlights from Christo Lamprecht
TECH LINEUP – Lamprecht played a near-perfect round Tuesday at The Cliffs at Keowee Falls, navigating the back nine (Tech's first nine) in 30 strokes and the more difficult front in 32 without a bogey. It was a career-low round by the junior from George, South Africa, and a Tech individual record for a round in an NCAA regional or final. Matt Kuchar had the previous regional mark of 64 (-8) in 1998. Mikko Rantanen holds the NCAA finals mark for Tech, a 9-under 63 in 1994.
Lamprecht's performance eclipsed another career-best effort by teammate Howe, whose 65 matched the lowest score of his career. The senior from Ogden, Utah went bogey-free with eight birdies until he made bogey on his final hole.
Lamprecht moved into fourth place individually at 11-under-par 133, while Howe is tied for sixth at 8-under-par 136.
Ross Steelman followed his opening 68 with a 2-under-par 70 Tuesday and is tied for 13thTh place at 6-under 138, while Bartley Forrester posted a 3-under-par 69 and is tied for 22ndn.d at 140 (-4). Freshman Hiroshi Tai followed his opening 68 with a 74 Tuesday and did not count toward the Jackets' team score, but he is tied for 32n.d place at 142 (-2) in the field of 75 players.
Tuesday highlights from Connor Howe
TEAM LEADERBOARD – Seed no. 6 Arkansas stayed hot Tuesday with a 17-under-par round of 271 to finish 36 holes at 39-under-par 537. The Razorbacks hold a seven-shot cushion at No. 32).
Top-seeded North Carolina and eighth-seeded New Mexico are tied for third at 551 (-25), with New Mexico close behind in fifth at 553 (-23).
Georgia Southern is five shots behind fifth place at 558 (-18), followed by Clemson (560, -16). No. 3 seed Texas A&M and San Diego State are tied for eighth at 564 (-12), with Furman rounding out the top 10 at 571 (-5).
INDIVIDUAL LEADERBOARD – North Carolina's Ryan Burnett, who shot an opening-round 63, held on to the individual lead by carding a 4-under-par 68 on Tuesday and has a 36-hole total of 131 (-13), one stroke ahead Clemson's Andrew Swanson and Arkansas' Segundo Pinto tied at 132 (-12).
Tech's Lamprecht is tied for fourth at 133 (-11), with the Razorback's Wil Gibson in solo fifth at 134 (-10). Howe of the Yellow Jackets and Albert Boneta of New Mexico are tied for sixth place at 136 (-8).
NCAA Salem Regional Round 2
Photos by Andy Mead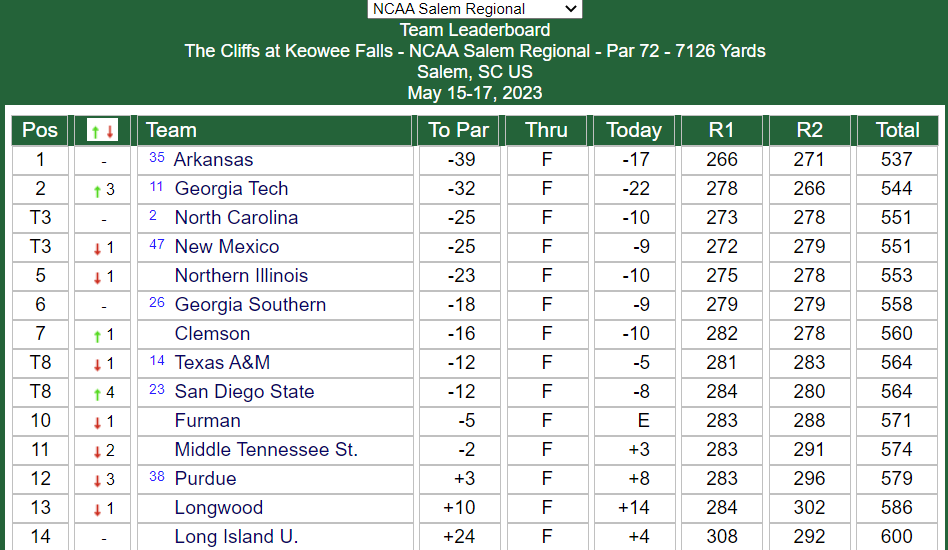 Post-round interview with Christo Lamprecht
---
Alexander-Tharpe Fund
The Alexander-Tharpe Fund is the fundraising arm of Georgia Tech athletics, providing scholarships, operations and facility support for Georgia Tech's 400-plus student-athletes. Be a part of developing Georgia Tech's Everyday Champions and help the Yellow Jackets compete for championships at the highest levels of college athletics by supporting the Annual Athletic Scholarship Fund, which provides direct scholarships for Georgia Tech student-athletes. To learn more about supporting the Yellow Jackets, visit atfund.org.
ABOUT GEORGIA TECH GOLF
The Georgia Tech golf team is in its 28th yearTh year under head coach Bruce Heppler, won 71 tournaments during his tenure. The Yellow Jackets have won 19 Atlantic Coast Conference Championships, made 31 appearances in the NCAA Championship and have been the national runner-up four times. Connect with Georgia Tech Golf on social media by liking or following their Facebook page Twitter (@GTGolf) and Instagram. For more information on Tech golf, visit Ramblinwreck.com.