Snapbook photo book: Two minute review
Compared to some of the best photo book websites like Mixbook and Snapfish, Snapbook is an anomaly in that you can only order a photo book through its app. While this will suit many users who store all their photos on their phones and don't use a desktop computer very often, if you've received professional photos for an event, it can make the things.
This lack of choice is really my main gripe with Snapbook – if you have high-end photos, web builders offer more customization than smartphone apps.
This wouldn't be such a concern if I thought Snapbook photo books were aimed at a more casual smartphone user market, but the pricing is completely inconsistent with that idea.
The price for a very regular size 20 x 20cm book is a whopping £55 without delivery. This is extortionate compared to other services – Snapfish, for example, offers a similar sized book for just £18.99. While I was comparing photo books at similar prices, I picked up the small 10 x 10 cm book, which is so small I'm not sure why it's an option!
True, Snapbook photo books are billed as offering high-end features like lay-flat binding and ultra-thick pages. However, there are no other more affordable options that users can choose instead.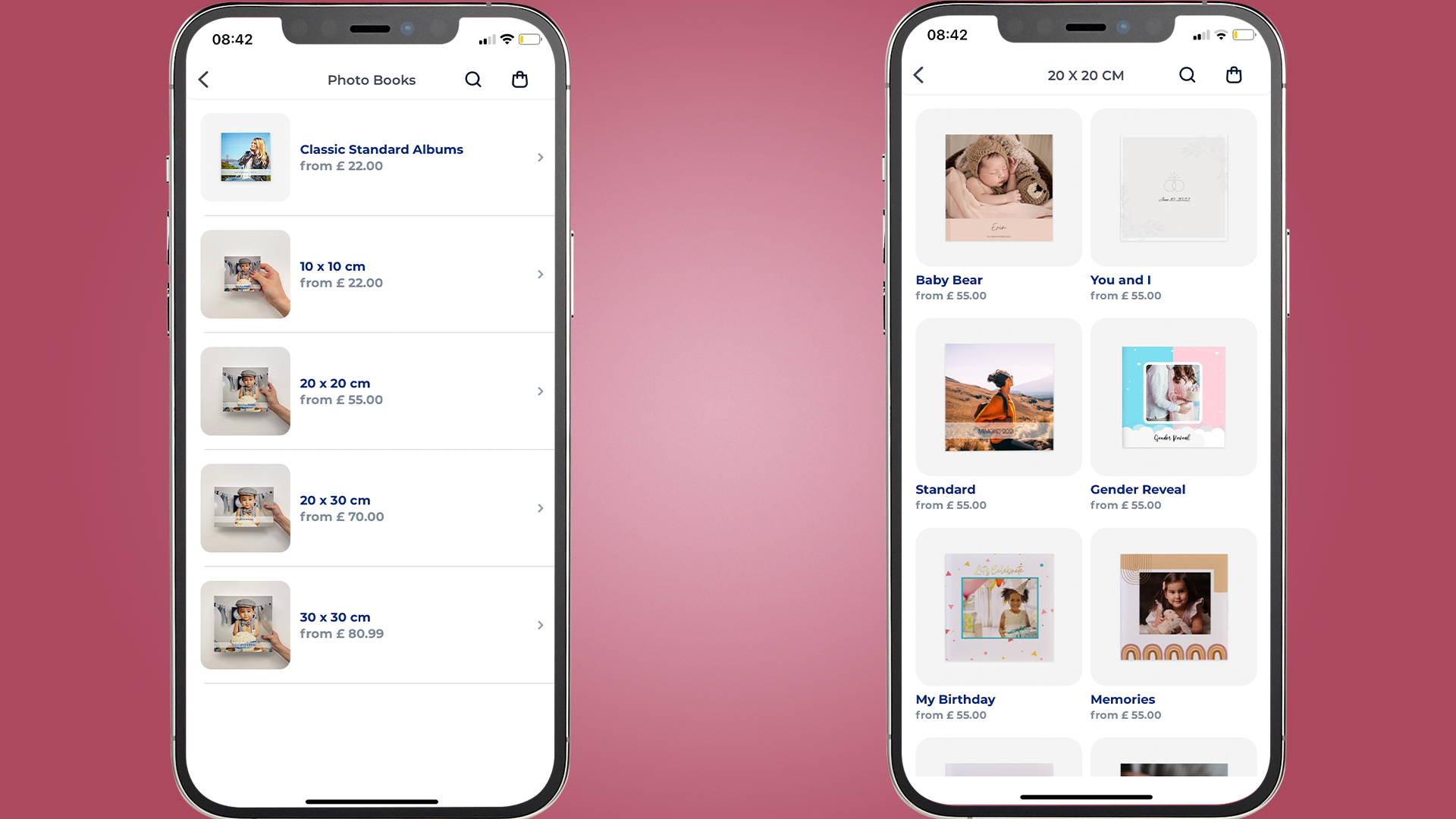 In terms of the photo book builder, I also had some problems with it. Fortunately, you can connect to Dropbox, Facebook, and Instagram to upload photos – which is useful if you have photos stored somewhere other than your phone. The initial upload process wasn't too fast but it didn't drag too much either.
This is nice, because you have to wait on the upload screen until all the images are finished before you start designing your book. You can choose between the app automatically filling in your photos or arranging them yourself. I decided to try the autofill function and found it works well.
However, when I started scrolling through the picture book, I discovered some oddities. The first is that you have the ability to add text to your pages, but only three to four characters per line! This makes it incredibly difficult to actually spell anything meaningful. I tried to see if there was a way to reduce the size of the text, but I couldn't find anything that would allow me to customize it.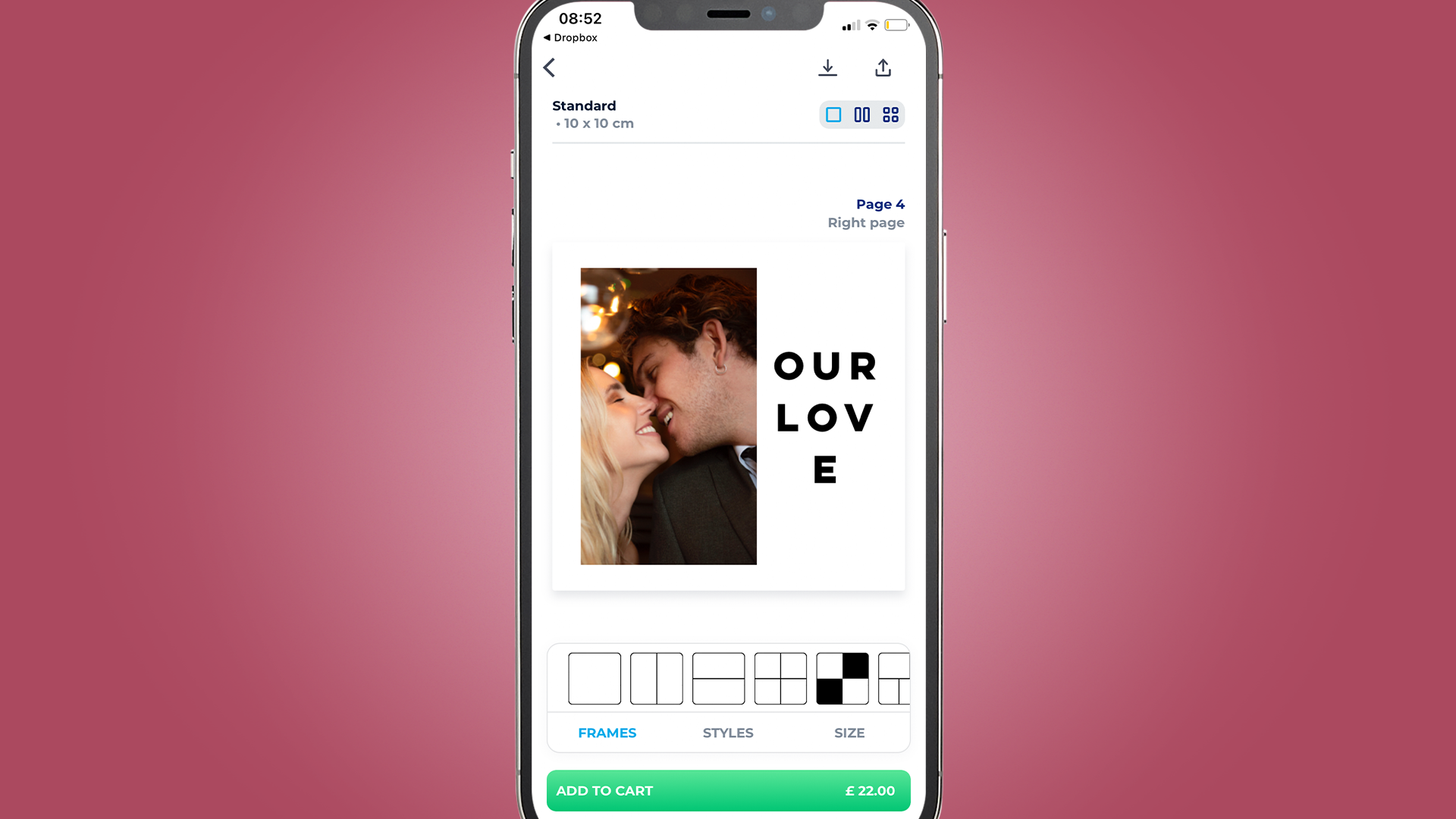 The second quirk is that there doesn't seem to be a central library of images I've uploaded. Maybe it's because I auto-fill the book, but if I want to replace a photo I have to go back to the individual Dropbox folder to find it, which is a bit inconvenient.
My biggest complaint about Snapbook is its payment process. You can pay via PayPal, Apple Pay, or credit card. I decided to use Apple Pay but immediately ran into a problem. I used the Apple Pay process and nothing changed on the checkout screen.
After waiting 30 seconds, I tried it again with the same result. Not sure if I paid or not, I decided to try paying through PayPal. This prompted the app to tell me that it was still processing the images, leaving me unsure if I should actually pay or not. This additional processing took a really long time, but when it was done I decided to try paying a third time with Apple Pay, which finally went through fine – obviously, background processing was preventing my initial payments from going through, but it was not I was not contacted until I tried to use PayPal.
The photo book was delivered in a reasonable amount of time and was packaged securely. I can't see any issues with the quality of the book and there are no marks or scratches to be seen. However, the absolutely ridiculous size of the book was apparent when it arrived. Considering it's a similar price point to other photo books I've reviewed, it's just too small for what it costs.
Ultimately, I feel like Snapbook has a confused sense of who its consumers are. It offers a premium product available only through an app, cutting out more serious photographers who prefer to combine the book with a desktop-based website. Meanwhile, more casual users are not afforded an affordable option and must purchase a premium lay-flat binding.
Should you buy the Snapbook photo book?
Buy it if…
Don't buy if…
Also consider…
How I tried the Snapbook photo book
I created a photo book in the Snapbook app using my own photos
I standardized tests across websites by choosing products at the same price point with similar designs and features
A key part of my testing process involved using Snapbook's smartphone app to create a photo book using my own photos. As I test multiple photo book services, I standardize my process by choosing books that are at the same price point to test value for money. I also chose similar designs, shapes, and sizes where possible. To make the testing process as fair as possible, I used the same batch of photos for each photo book.
Once the Snapbook photo book arrived, I compared it to books I received from other websites, checking for photo quality and any color variations. I checked the cover and the individual pages to make sure there weren't any scuffs or visible damage.
First reviewed in May 2023