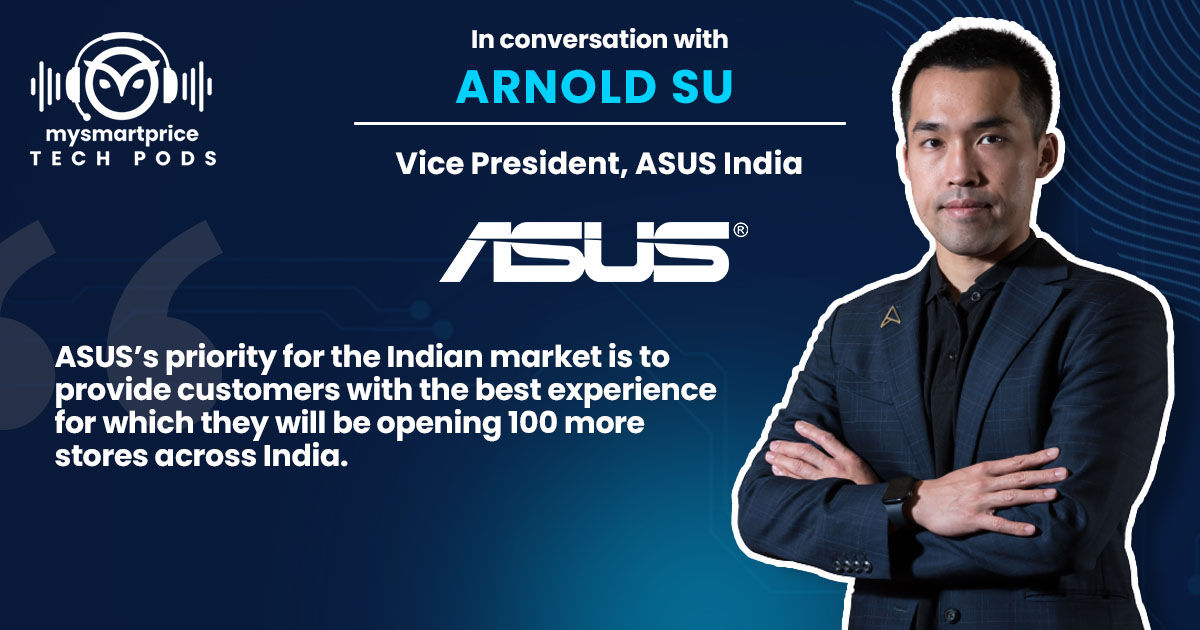 We're back with another installment of MSP Tech Pods. After hosting personalities from HP and Qualcomm, we have Arnold Su, Vice President of Asus India. Arnold has been part of ASUS for over ten years and has played his role in various roles.
In our podcast, we discuss ASUS' journey in India and how the company's PC market has developed so far, as well as the history of ASUS' gaming and mobile divisions. Additionally, ASUS has some exciting plans for the Indian market in 2023. Without further ado, let's get started.
How has ASUS handled the transition from PC to mobile?
ASUS is popularly known as a PC or laptop brand, but it also makes smartphones. The Taiwan-based company has a variety of mobile series such as Zenfone and ROG Phone. But how has ASUS managed to deal with this transition in the past? When asked about it, Arnold said that by 2013, iPhones had become an everyday device in people's hands because they were easy to hold and could do multiple tasks just in the palm of their hand.
So why would anyone buy a PC? We'll talk about that in the next subheading, but Arnold said the transition prompted ASUS to work on its mobile division called Zenfone in 2014-15. The company recently launched the ASUS ROG Phone 7 series, which is considered to be the most powerful gaming smartphone of the moment.
ASUS' transition to making laptops for creatives
PC manufacturers used to plan their products mainly for gamers or companies. After 2020, however, there was a gradual shift in consumer needs. Arnold and the ASUS team recognized that mobile phones can do a lot of things that PCs can do, but there is one thing mobile phones can't do that PCs can: create content and be productive.
Mobile phones are designed to meet the modern consumer's need for a large screen and multitasking. At this point, ASUS focused on the needs of content creators and launched its first dual-screen notebook: the Zenbook Duo. The company is now selling OLED laptops in India for content creators.
ASUS is more focused on offline sales, here's why
Regardless of offline or online channels, buying a laptop has become easy. However, it is still difficult to choose the best laptop for your needs. That is why ASUS has around 200 offline stores across India for you to have the experience and choose the best laptop according to your needs.
Arnold explains it with an example; ASUS has launched a laptop with a 3D display, which means you don't need to wear glasses to watch a 3D movie. All of this can be seen with the naked eye, but the experience could not be explained on the internet. Because of this, buyers can come to the nearest ASUS store and test the product. This is the case with other laptops where you might get a better one in real life.
Did you know? ASUS allows you to play games on his laptop for free
When answering a question about MSP's offline gaming, Arnold shared an interesting detail with us. He states that there are ROG stores in some cities where users can try any gaming laptop for three hours every day. You are allowed to download any games and log into Steam accounts. There are tables and gaming chairs that offer you the best comfort while playing. Sounds like a perfect Sunday schedule, right? However, this is only limited to cities like Delhi, Kolkata and Hyderabad. Arnold said ASUS will expand these ROG stores to Pune, Mumbai, Ahmedabad and many other cities.
ASUS plans for India in 2023
ASUS has some exciting plans for India in 2023. Arnold says that ASUS' priority for the Indian market is to provide customers with the best experience, for which the company will open 100 more stores across India. He reveals that ASUS plans to bring its first 3D laptop to India in September or October this year.
For gamers, the RTX4000 series is coming to the desktop. ASUS believes that 15.6 inches is not an ideal size for gamers and they need more screens. The company plans to make the 18-inch screen size into a compact form factor for gamers.